Best Portable Chargers and Power Banks
Disclosure:
We get a commission for purchases made through links on this website. As an Amazon Associate we earn from qualifying purchases.
read more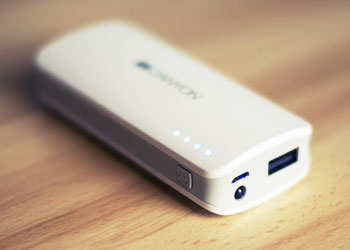 Updated on: December 1, 2020
If you are more into technology, you will need a power bank. All mobile devices, including smartphones, tablets, laptops, mouse and Bluetooth headphones will need a power bank to function for longer periods.
That is the reason the number of power banks in the market is always increasing. Also known as portable chargers, power banks, are standalone batteries that manufacturers design to help people keep their devices functioning when travelling or camping.
The small devices with USB ports might not be beautiful but they will provide the power to recharge a laptop several times. To help you pick the right one, we have come up with a list of the top power banks and a buying guide.
The top power banks in the market today:
1. Portable Charger Anker PowerCore – 20100mAH
The Anker PowerCore 20100mAH is among the greatest and more recent power banks in the market. In fact, it shows the dominance of power accessories market.
Even though the model is heavy and large than many other power banks in the market, it provides 20100mAH battery life. The power bank is heavier than most people would want, but it will fit in your pocket.
You can take it to any place, depending on the mileage you are likely to get between charges.
The additional weight of the charger is easier to overlook because the unit will charge your smartphone device more than six times off a single charge. That is adequate power to keep any portable device fully charged for over one week.
The PowerLIne charging cable, available with the device, is known to stand up against many months of abuse. The 4.8A charger provides faster charging, it uses VoltageBoost and PowerIQ technologies and comes with two USB charge ports.
The device will take 8 hours to recharge. The LED display will provide with information about the remaining juice.
Pros
Higher power capacity
Dual USB charging ports
Smart ports offer very quick charging on easier to adjust currents
Cons
Can take over 8 hours to charge completely
No pass-through charging
It is heavier than you would expect
2. iMuto 30000mAh Portable Charger X6
This portable charger does not lack in its power department. The 30000mAh will go a very long way, which means that you will be able to recharge your mobile device severally when travelling or camping.
One of the standout features of this device is the LCD screen that displays the percentage of power left. Most manufacturers incorporate four LED lights to indicate the level of charge.
In our experience, that can be misleading and confusing. iMuto provides you with the exact details of the power remaining.
The device has a Micro USB 5V/2.1A input that is important for chargers of that capacity. It will take around 10 hours to recharge but maximize the recharge speed; you will require a compatible wall charger.
The iMuto provides two charging ports for output rated at 1A and 2.1A, which is the standard at the price range. Even though the market provides many faster chargers, you will be happy with the iMuto 30000mAh Portable X6.
The iMuto smart power technology will keep your devices safe and optimize the charging speed. It will detect the device you are charging and intelligently deliver fast and safe charge. The USB to Type-c Cable will help you charge your MacBook Pro easily.
Pros
The digital screen displays the exact percentage of remaining power
The device provides the best value for your money
It is a superpower
Cons
It might not be among the good looking power banks in the market
It is heavy and bulky
3. BONAI Portable Charger – 30000 mAH
The BONAI Portable Charger 30000mAh is one of the portable chargers that will fit perfectly in your backpack, purse or fanny pack. The recharge rate of the charger is faster.
In fact, it will recharge from zero to around 100 percent within 8 hours. It has a massive capacity, which will be of great benefit regardless of the devices you are planning to recharge.
The recharge rate of the portable charger is reasonable if it is not in use when charging. It offers a flashlight, 5.6A output, 4A input higher speed charging technology and it is compatible with iPhone iPad Samsung-B.
The 30000mAh capacity is more than enough and you will be able to use the flashlight for extended periods. You will manage to charge your iPhone 6S Plus around 50-60 percent within one hour.
On the downside, this device will take a longer time to recharge some devices such as the Galaxy phones. It is likely to recharge 20-30 percent per every hour when the device is not in use – including when charging one device at a time.
Using your mobile device as it recharges will significantly increase the charge time. The device is also bulky and it might not fit in your pocket. Even though it is a good camping and travelling companion, you might not love the bulky nature.
Pros
It lasts for a long time
It has an aesthetically pleasing design and beautiful colours
It can recharge your mobile device for up to 10 times
Cons
4. Yoobao 26800 mAh Power Bank
The first thing you are likely to notice about the Yoobao 26800mAh Power Bank is that it is heavier than most of the portable chargers in the market today.
The other things you will also notice is the strong build, the charge ports and 0-100 power gauge. The 20000 mAh capacity will help you recharge your device for around 4-5 times. It will drop by around 16percent after recharging the iPhone XR from 0 percent to 100 percent.
The device is large and heavy – weighing around one pound – but it will perfectly fit in your backpack or pocket. During your endurance rides, you can store it in your bike pouch and recharge your devices when a need arises.
The three power inputs differentiate it from most of the competitor devices, which mostly come with one input port. You can charge it from a micro-USB cable, lightning cable (iPhone cable) or a USB-C cable.
In other words, you will be able to use the same cable you use to recharge your Android device, or iPhone to recharge the power bank.
Pros
The manufacturer offers three different ports for recharge
It only takes 10 hours to recharge fully from the 2.0A port
You do not need a separate charging cable for your mobile device and one for the charger
Cons
It is bulky. You should expect problems if you are not willing to use a backpack
5. Metecsmart Power Bank 20000 mAh Portable Charger
The manufacturer supplies this power bank in a protected pack. The product is almost the size of your hand and not wider than that.
Speaking of the weight, it weighs around onepoundand therefore you can walk with it inside your pocket without even noticing that you are carrying something important.
And more importantly, you are unlikely to find any other capacious power bank of smaller weight or size.
The power bank takes a long time to recharge, considering that it is a 20000mAh power bank. The manufacturer supplies it half-charged and you will have to charge the remaining portion before you start using it.
On a normal charge, the device will provide your iPhone 6S with 1 percent charge per minute. You can connect over two devices if you want to charge them faster (2-4 percent per minute).
Your tablet will also charge faster. The Metecsmart Power Bank will provide 5-6 charges, which is more than enough during travel. Your device is unlikely to get hot when recharging.
Pros
It will recharge your mobile device for around 6 times
It has is stunningly beautiful
Offers double charging speed
It takes 10 hours to recharge fully
Cons
Some people might not like its bulky nature
6. Easy Style Power Bank 20000mAh Portable Charger
The Easy Style Power Bank 20000mAh portable Charger comes in a simple packaging along with the user guide and two quality-charging cables. The manufacturer brands it with their brand name and colors it brightly on its plugs.
That might be seemingly unimportant, but if you have several cables, you will appreciate this. The offered user guide is easier to follow and the manufacturer prints it in several languages. It lists all the features of this product, specifications and the purpose of the 18 months warranty.
Its housing is made of durable plastic material with unique orange sides. Easy Style nicely rounds the corners and bevel the edges to make the power bank pleasant to hold and to prevent slipping.
The weight and size are impressive considering that you will have a LED torch, six ports and whopping 20000mAh battery cells squeezed inside. All the USB ports and the flashlight are on the top edge.
The recharging time stands at 5 hours and you will have status LEDs to inform you about the remaining amount of charge.
Pros
It is capacious and therefore suitable for travel
Offers a stylish design
The LEDs will tell you about the remaining charge
You will have two USB ports, which means you can charge two devices at the same time
Cons
Most of the buyers claim that the product is poorly built
7. RAVPower 20100mAh External Battery Pack
The RAVPower 20100mAh External Battery Pack is an AC Portable Charger that provides more flexibility due to its ability to charge USB-C, USB and AC power.
That allows the user to charge any type of mobile device and any large device like a projector or laptop. The power bank has 20100mAh capacity that provides it with adequate juice to charge your 12-inch MacBook or iPhone 7 around six times.
The five LED power indicators provide the user with accurate details about the remaining charge.
Expect to find one USB-C port with a 3A output, a 100W AC output and a USB port with 2.4A, which is the feature that differentiates the External Battery Pack from the major competitors.
The device will recharge at a reasonable speed through the DC input, but unfortunately, you will not be able to charge it through the USB-C port. That means you will have to bring your DC charger when travelling. It is pocket-friendly and measures for around two pounds.
Pros
High power capacity
1 USB, 1 USB-C and 1 AC output
5 LED power indicator
Cons
It is too bulky to fit in your pocket
Higher price tag
It does not receive the input charge through the USB-C port
How to Choose a Portable Charger?
Portable chargers function more like the battery of your mobile phone, laptop, tablet or any other portable device. They allow you to plug in a device and charge it without the need for a power source or a wall socket.
As useful as they are, portable chargers are available in many options. Selecting the size of a portable charger to use can be challenging. You need a charger that will keep your devices fully charged so that you can use them at any time.
The other thing to consider is the number of charging ports it offers. After that, you will have to think about your budget. Here are the key factors to consider during your purchase.
– The Milliampere hours (mAh)
The mAh is the unit of measure for the battery capacity of a power bank. A quick example, a fully charged laptop battery can store over 5,000 mAh.
Some smartphone batteries might store between 2500mAh and 3500mAh. The capacity should the first thing you check when shopping for a portable charger.
– Amperage
You will find the amperage indicated as amps on some power banks. It is the unit of measure describing how fast your portable charger will send power to your mobile device.
A quick example 1.0Amps portable charger will take several hours to recharge your device, while one rated as 2.4Amps will take less than one hour to do that. Keep in mind that charging several devices at a time will affect the amperage.
So, if your power bank is rated as 2.4 amps and you decide to connect two devices, they will take a longer time to recharge fully. If you have to charge to devices at the same time, you will need a power bank rated above 3.4 amps.
– Status indicators
Any basic portable charger will feature a series of LED lights to show the remaining battery life.
However, the fancier ones have a clear interface with digital readout to display the information. If you need a basic model, ensure that it has the LED lights.
– Built-in flashlight
Even though you might include a flashlight in your backpack, a power bank with a built-in flashlight is a better choice. It will be more helpful when camping or when finding your bag's contents in a dark room.
– The cost
The inexpensive models will retail at around $15-40 and the high-end ones can go for over $100. You will have to consider the amount you are willing to spend when buying. That way, you will remain on the safe side.
Conclusion
Extra features might not be necessary but will help you seal deals when selecting a portable charger. At times, it might be something as simple as an extra USB port so that you can charge several devices at the same time or a flashlight.
Most portable battery chargers offer many features and some double as panic alarms. The above list and buying guide will help you choose the best power bank today.