Best Laser Printers for Home & Office
Disclosure:
We get a commission for purchases made through links on this website. As an Amazon Associate we earn from qualifying purchases.
read more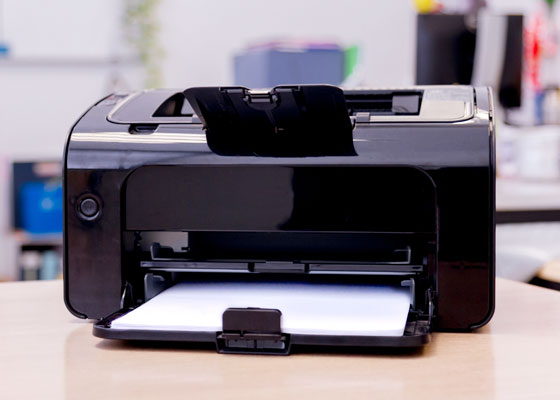 Updated on: December 1, 2020
Whether you are a major company that has many employees, or just a small firm with a single office, or even an entrepreneur with a home office, one thing that you will surely need if you want your business to run smoothly is a laser printer.
Laser printers allow you to do all that necessary copying and faxing go without a hiccup, so choosing a perfect one is a task you must face with complete dedication.
Investing your time and money in purchasing a great laser printer can help you save money in the long run, whether it is on ink, paper or simply with the longevity of the device.
That is why you shouldn't think about the price as much as the quality of the laser printer you want to buy.
There are many things you need to consider when you choose the perfect laser printer for your needs and most of them depend on the size of your business.
Bigger companies require bigger and faster printers, while smaller firms can choose a smaller printer with a bit slower speed without experiencing problems for it. In order to help choose the right printer for you, we have compiled a list of the best 10 laser printers on the market:
– Brother HL-L2340DW Compact Laser Printer
The first printer on our list is the Brother HL-L2340DW and it is an upgrade to the HL-2270DW. Since the previous model showed amazing performances, if you already own it you will know what to expect from this latest model since they are very similar.
One major difference is a small LCD readout that is added to the top panel and allows you to navigate the menu in a much easier manner.
Also, another innovation this model brings is mobile printing support for many platforms – Google Cloud Print, Apple AirPrint, to name just a few.
This is a great B&W laser printer that has a light to medium output, but another thing that stands out about this laser printer is the design. Even though it has a very similar design as HL-2270DW, there are some improvements.
For example, HL-L2340DW is a little bit thinner and lighter. Thanks to its design, this amazing printer will never make you worry about delay or jam.
When it comes to its capacity, this printer can hold 250 sheets of paper and can print out up to 10, 000 pages on a monthly basis.
You can also print different size papers since there is a single-sheet manual bypass tray that accepts various paper sizes. The quality of the print and visibility of individual letters are both of the highest standards.
To link this printer to your computer, you can use a wireless connection since it has the Wi-Fi Protected Setup (WPS) and you can connect it very quickly.
Another way to connect it is with a USB connection and for this you can get all the necessary software, drivers and manuals on the Brother's website, or you can simply use them from the CD that is also included.
Also, once you activate this printer, you won't have to think about running out of your toners since HL-L2340DW measures their level and orders them from Amazon automatically when they drop too low.
– Brother HL-3170CDW Digital Color Printer
This is another printer made by the same company as the previous one, and it offers the same highest standard performances.
This printer is pretty big and heavy since it weighs around 39 pounds, so it is probably wise to find it a permanent position so you don't have to move it around a lot.
Another thing that might cause a bit of discomfort is the fact that it has a fixed front display, which means that you will have to look down at the printer without the alternative of another viewing angle.
When it comes to design, it is a pretty minimalistic printer. HL-3170CDW offers a simple monochromatic LCD and some basic collection of buttons like Start, Cancel, Stop and Select.
You will also get two divided trays in which you can insert paper, but the main one that is probably enough for most users has the capability of 250 sheets of paper. The second tray is mostly used for unusual media, such as card stocks and envelopes.
Also, this printer allows you to print around 30,000 pages on a monthly basis, but you will not be able to add another tray on the bottom like some other printers allow you to do.
One major innovation that HL-3170CDW includes is the Deep Sleep Mode, which can help you save your power and reduce energy bills. Another innovative thing included in this printer is the automatic double-sided printing, which is done to help the ecology and environment by saving the amount of paper that you use.
When it comes to connecting the printer to your computer, all standard options are available, which includes a wired connection with a USB cable and a wireless connection. However, you can also connect your printer to your mobile phone with cloud-based apps like Google Cloud Print, Apple AirPrint and many others.
– Canon imageCLASS D530 Monochrome Laser Printer
This is a very efficient and productive laser printer and it has many features that separate it from other similar printers.
For example, it has a very smart Energy Saver mode that allows you to reduce your energy consumption to only 1.2W, which is not good for your wallet only, but also for the environment.
Canon imageCLASS D530 has a single cartridge system that is a very fitting since you have all that you need in one single unit, which means that the toner and drum are all in one place so it is very easy to replace them.
When replaced, the whole imaging procedure gets refreshed to keep up with the high-standard image quality you will get with this printer.
You can also use this printer to create copies of your ID and other similar identification documents like passport or driver's license.
This printer comes with great display options since it has a 5-line LCD display that allows you to easily navigate through the menu.
You can also decrease the noise from this printer without much effort, you only have to press the quit mode button and you will be able to enjoy your peaceful and quiet atmosphere.
When you use this printer, you will notice that it has a great paper supply. It has a cassette that can take up to 250 sheets of paper, but you can also use an additional tray that has many purposes, one of them is for single sheets.
When it comes to printing itself, it is very fast and precise. You will be able to print a black-and-white document in a matter of seconds and you will also be able to select an eco-friendly option, like 2 on 1 and 4 on 1 printing. That will help the environments since it will enable you to spend less paper.
– Samsung SL-M2020W/XAA Wireless Monochrome Printer
This printer is ideal for people that don't have big printing needs. It is a simple black and white printer that is great for you in terms of economics and effectiveness, but you shouldn't expect breathtaking creative performances or a very innovative design.
However, Samsung SL-M2020W does have many advantages compared to a similar printer. For instance, it is a lot easier to set up than most other printers and it is compatible with iOS and Android devices. It also has Wi-Fi connectivity as another plus.
Another thing that separates this printer from others is its size. It is a very compact printer and it can be placed in many spaces where others wouldn't be able to fit.
It also has a very long power cable so you won't have to worry about that since you will have a lot of flexibility. Also, in addition to this USB cable, you can also connect this printer with devices using a wireless connection.
With this printer, you will be able to print different media types, like card stock, labels, envelopes, recycled paper, in addition to all standard sizes. You will be able to put 150 sheets of paper in the tray, which is pretty average and expected considering the size of the printer.
Also, there is no additional tray, which means that you will probably have to restock more often than you would have with other printers from our list. You can also print on both sides of the paper if you want to help the environment.
This printer has a speed of 21 pages per minute. The quality of the print is great, but if you choose the economy printing option you might notice a slight degradation.
That is why you should stick with high-quality settings for any important documents and you can use eco-print for text pages or emails.
– HP Laserjet Pro M452nw
This is a very stylish laser printer since it is shaped a little bit like a wedge and has an eggshell white finish with a bit of dark gray where output tray is placed.
The display comes in the form of a large color touchscreen which allows you to have a great control over the printer. You can also look at photo thumbnails on it, as well as online apps that HP has to offer.
It has a back panel socket for USB drives, which is a really convenient contrast compared to most printers that have a front panel socket.
At the very bottom of the front panel, there is the main paper tray in which you can put only 150 sheets of paper. That is a bit on the low side compared to other printers and if you want HP Laserjet Pro M452nw for your office, you will probably have to refill it quite often.
Another problem here is the fact that you can't add an extra tray as well. There is, however, a single-sheet tray that has many purposes and it is located right above the main tray.
This laser printer has four toner and drum cartridges which are all integrated into one rack. This rack can be pulled out on the front of the printer and it presents you with a fast and easy maintenance option. Capacity here could be a bit higher as well, but you can always get bigger versions of both color and black cartridges at least.
With this printer, you will be able to print 18 pages per minute and the quality of the print is truly amazing, especially for documents in black and white. Color document printing is really solid, but not breathtaking since there is no banding, among other things.
– Dell C1760nw Laser Printer
When it comes to easy to set up printers, there is not a printer in the market that is easier to set up than Dell C1760nw. It comes with everything already in the place, you only have to turn the power on and start using it.
That makes it perfect for private use or small companies that want to include color printing in their daily activities without having to hire a professional to set up the printer.
As many other printers on our list, this printer too can be connected to your device via Wi-Fi, in addition to USB cable.
Another advantage this printer has is the size. It belongs to a group of small printers and that entails a really great flexibility when it comes to choosing a place for it. However, with small size comes a small drawback of having the capacity of only 150 sheets of paper.
Another thing that lacks is a regular paper tray since C1760nw instead comes with an open area in which you will be able to stack your papers, in the front of the printer. To use it, you have to open a small door which then serves as the bottom of the tray.
This printer will let you print around ten pages per minute, which isn't that impressive, but it is good enough if your needs aren't bigger. However, good thing is that colored text will also take about the same time to print since with many other printers these will take a longer time.
The quality of the print you will get with C1760nw is absolutely perfect. The only thing that might be considered as a flaw here is a bit lighter default ink coverage. However, this will at least save you some money on toner and it isn't really that noticeable as well.
– Dell E525W Color Laser Printer
Dell E525W is a really compact printer that is designed primarily for smaller companies or work associations, as well as private use.
It is a printer that is easily on the smaller side of the spectrum and it is a very multifunctional device since it will allow you to print, copy, and scan or fax your documents at any time.
Another amazing thing about this printer is connectivity since Dell E525W supports USB, Ethernet and wireless connections.
When it comes to design, I personally like it a lot. It is minimalistic and has black angular lines that give it a really stylish look. Also, it is a very clean-cut printer that has a small footprint, so you will be able to fit it anywhere without much effort.
It has a mono LCD display right below the automatic document feeder which is on the very top and can hold up to 15 sheets. This display allows you to easily navigate through all features that this printer has to offer.
Same as with many printers of smaller size, Dell E525W also has a paper tray with the capacity of only 150 sheets, so you better get used to refilling it often. Also, there is no single-sheet feed, which is a bit of a letdown as well.
There is a panel that folds down on the back of the printer, as well as hinged area for scanning that offers you access if you experience a paper jam, although you probably won't with this reliable printer. The speed of this printer is 18 pages per minute.
The quality of text and color photos as well is really good. You will see a crisp text and light, engaging colors with smooth color fills. However, some darker tones on your color photos might end up merging with black, which is not so unusual for most printers, unfortunately.
– HP OfficeJet 4650 All-in-One Printer (F1J03A)
This printer allows you to print from any kind of mobile device, in addition to your PC or laptop. That includes smartphones and tablets and you can connect with your desired device without even accessing a network.
These connectivity options are one of the strongest features of this interesting printer, but there are many other benefits that come with it as well.
The biggest advantage, of course, comes from the design. It is a small printer designed for home printing and smaller offices. That is achieved by the fact that it combines all features a regular printer has into one package.
This will save you a lot of space and thanks to its size and weight; you can even move it around at any time with ease. Another strong feature is the quiet mode option that will make your printer almost inaudible and undisruptive to your peace.
There is another very convenient thing about this printer and it is the HP Instant Ink option that allows you to save a lot of money on your ink, but it also allows you to take it easy and not worry about running out of it.
Also, thanks to the Original HP high-yield cartridges, you will be able to print two times more pages or photos than with the regular ink cartridges. You can save money and environment, as well, if you use two-sided printing option.
This printer also has a pretty straightforward display that is very simple to use. The quality of the print is pretty amazing when you consider that the size and the fact that this is primarily printer for home use.
You can print anything you want with this printer, including high-quality, borderless photographs and documents. There is also an automatic document feeder that can help you speed up the process when you are in a hurry.
– Canon Office and Business MX922
This printer has many connectivity options, you can connect it to your desired device via USB cable, or you can connect with Ethernet or Wi-Fi if you want to, but it can also operate as a standalone copy and fax machine, which means you can scan or print directly from the USB flash drive.
It is another printer from the "home office printers" category, which means you can use it in your home or even in some very small office.
MX922 allows you to preview photos and text on its color LCD display and it also has an automatic document feeder (ADF) and a flatbed in a letter size that you can use for scanning.
ADF has a capacity of 35 pages. You can also print your documents on both sides of a paper which is a great, eco-friendly feature.
The capacity that this printer and its paper tray can offer you are 250 sheets of paper, which is a pretty great number since it is a machine designed predominantly for home printing.
Also, it even has an additional and separated tray for photo paper, with the capacity of up to 20 sheets of it. That way you can switch from printing on paper to printing photographs without having to always switch the type of paper in the tray.
One of the major drawbacks of MX922 is the printing speed. With printing speed for business applications at around 2.4 pages per minute, it is one of the very slowest printers on the market.
However, printing speed for photos is solid and makes up for the flaws in the previous department to some extent. Another thing that will make you forget about the speed flaws is the output quality. Text quality is of the highest standard, while graphics are solid, but closer to average than to top tier.
– Brother HL-L2300D Monochrome Laser Printer
This is a great printer built to be used at home or in small offices since it is small enough to stay on your desk without taking too much space and since it can only be connected with a USB cable.
You could even call it a personal printer because of these attributes. However, this doesn't mean that Brother HL-L2300D can't handle sharing, especially when you consider that it weighs only 15 pounds and that you can move it around easily.
With the 250 sheets of paper capacity that this printer has, you can easily use it in an office without having to constantly refill the tray.
It also has a duplexer installed in it, which allows you to print on both sides of the paper, which can both save you money and help the environment. It has a printing speed of 27 pages per minute for regular text documents, and 93 pages per minute for business applications, which is actually a respectable speed.
As we have previously mentioned, connectivity is one of the main drawbacks for this printer since you can only connect it to your devices via USB cable, which is also not included in the package.
That means that you should look elsewhere if you want to connect your printer to your mobile devices via Bluetooth or Wi-Fi, since that option is unavailable with Brother HL-L2300D Monochrome Laser Printer.
When it comes to output quality, HL-L2300D has average quality for both text and graphics, especially compared to other monochrome lasers. It is good enough for business use, when we talk about text, as well as internal needs, when we talk about photos.
How to Choose the Best Laser Printer?
However, before we go to our list, we want to help you understand what is it that you need to look for in a laser printer when you are buying a new one.
Connectivity
One of the first things you need to consider is connectivity. Wireless printing is becoming more and more important and if you feel that way too, then you need to look for laser printers that support Wi-Fi or Ethernet connectivity.
Today, speed is one of the crucial factors that separate successful companies from others and wireless connectivity can help you achieve the printing speed you desire, along with the flexibility, since your printer won't have to be connected with USB cable to a device.
Toner
This basically comes down to a choice between laser printer and inkjet printer. Since we are talking about laser printers in our article, I won't go into much detail, but I will point out the difference between the two, and that are two things: price and quality.
Laser printers are generally more expensive, but in the long run, they will pay off more than inkjet printers. They last longer and they use less ink, so you will be actually saving money if you go with laser printers.
One thing to consider when you are thinking about laser printers and their toners is the toner's yield, which basically covers the amount of printing the device can do before you will be required to replace the cartridge.
Speed
When we talk about speed, we need to consider two things: number of printed pages per minute and the estimated time needed for the first page to be printed.
When it comes to pages per minute, laser printers are completely superior in this department than other printers, but even here, different laser printers have different ppm numbers. This number is usually stated in the declaration of the product, so you should pay attention to it.
The same goes for the First Page Out speed. The difference of a few seconds might not seem as much to you right now, but in the long run, this can amount to significant time loss. For this reason, you should always take this number into the account as well when you are choosing the right laser printer for you.
Conclusion
We have reached the end of our list and we hope you have enjoyed reading this article as much as we enjoyed writing it. As you probably know by now, choosing the right printer for home or office use is not a simple task at all. There are many laser printers on the market and with each passing day, there are even more.
We hope that our list helped you at least a little to decide what laser printer is the best for you. Even if you didn't find what you were looking for here, you can use the information we provided and guidelines for choosing a perfect laser printer for you that isn't on our list.
We hope that our list has at least offered you some kind of direction in which you need to go so you can find that laser printer you want.