Best 5.1 Channel Home Theater System
Disclosure:
We get a commission for purchases made through links on this website. As an Amazon Associate we earn from qualifying purchases.
read more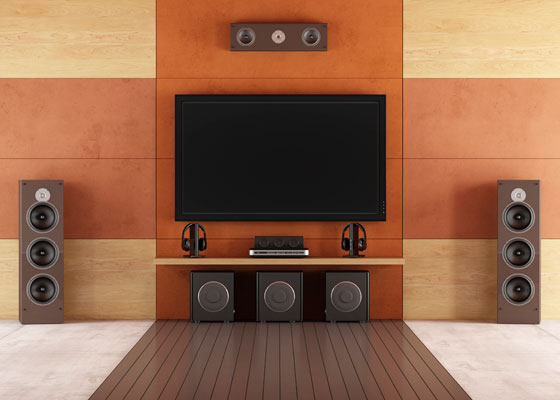 Updated on: December 1, 2020
We all love the cinema one way or another, because for a short while, the experience takes us into a whole new world, without even a tiny bit of reality disrupting us.
Unless, of course someone's phone starts ringing or some guy in front of you decides to go to the bathroom.
But other than that, watching movies in the cinema with a massive picture in front of you and true, high quality sound around you is a blissful experience.
Without any further ado here is our top list of the best 5.1 home theater system:
| | Home Theater System Name | Total Power Output | Product Price |
| --- | --- | --- | --- |
| | 1. Bose SoundTouch 520 | 1000 W | |
| | 2. Enclave Audio 5.1 | 110 W | |
| | 3. Yamaha YHT-4920UBL | 145 W | |
| | 4. Pioneer 5.1 HTP-074 | 250 W | |
| | 5. Klipsch HD1000 | 100 W | |
| | 6. Monoprice 10565 Premium 5.1 | 1000 W | |
| | 7. Sony BDVE3100 5.1 | 1000 W (RMS) | |
| | 8. Panasonic SC-XH105 | 1000 W | |
| | 9. Samsung HT-J5500W 5.1 | 1000 W | |
| | 10. LG Electronics BH5140S | 500 W | |
As new technologies like arcade games and cinema dropped into society, the market has been clever enough to produce devices that we can use to take these amazing experiences home with us. As technologies developed, TV's were built with smaller and smaller panels, making them absolutely thin and also a lot larger.
Now we're left with massive screens and smart TV's that let us do most of the stuff we would do on handheld devices and computers, but it came with one disadvantage.
As we dropped the huge box design of TV's and started making them amazingly thin, we left almost no space for the speakers. Even expensive smart TV's have small speakers inside them. With big TV's, speakers had much more air to work with and they we're larger and louder overall, but they don't have space for that today.
If you're a bit familiar with physics, then you know that larger speakers aren't necessarily better, but they do displace more air and at least they are louder without working that hard. But a tiny speaker won't sound that good no matter what you do.
If you're looking to have a good sound, from the couch, home cinema experience, then your TV will definitely need a sound upgrade. That can be arranged in various ways.
You can buy a sound bar that goes under your TV. They come with a different number of speakers and may or may not have a subwoofer. If you're all about that bass and no trouble, then having one would be indeed necessary.
But in my opinion, using one of those is like baking only half of the pie. It will still taste good but it won't get your stomach full. So in order to chow down on some good sounds and get the full experience, it's best to go with a 5.1 home theater system.
Best 5.1 Home Theater and Sound System
Now that we're through with the most important info, it's time to see which ones are the best 5.1 sound systems of our time and whether each of them is worth purchasing.
I'm going to make some comparisons as well but I'll try to make the final verdict as opinionated as possible.
– Bose SoundTouch 520
It probably doesn't come as a surprise to anyone who is familiar with audio devices that Bose is the king in the field.
Few companies manage to come close to the quality of products that Bose has produced over the past, let it be headphones, speakers or in this case home theater systems.
Bose really knows how to integrate outstanding performance in an incredibly simple and compact system. Their latest home theatre system, the SoundTouch 520 is an excellent example of this.
It produces truly amazing sound quality and has all the necessary connectivity options to make it worthy of sitting in the center of your home entertainment.
To make all this SoundTouch work, you have a separate module that handles the wireless signals. It allows connection to your whole system and allows you to be a part of that whole experience for SoundTouch.
To start off, the very edgy and modern feature, the SoundTouch makes it outstanding right off the bat. It's an application that you can download to your smartphone. With it, you can control your music and it will let you find the zone in your home and send audio with it.
You'll be able to wire up a system with Direct Reflex Series speakers that they have redesigned to look simpler, better and the sound quality they produce is just great.
By Using 5 speakers, the center, left, right and rear speakers the SoundTouch 520 gives you an actual, high-quality 5.1 surround sound home audio experience.
The Acusti Mass module is going to give you absolutely penetrating bass that will roar all across the room and it is also wireless, so you can park it 30 feet within the console.
Moving on to the control console, it is a simple black box with a LED screen on the front. It is 4K compatible, so if you have a 4K TV in your living room, you can connect to it without a problem.
On the back it has 5 HDMI ports (1 for output and 4 for input) that you can use to connect your devices. It is incredibly easy to work with.
In short, that's about it. This system is a big yes if you're looking for something that's very simple to operate yet offers all the benefits and features of a truly advanced sound system. It is among the premium, pricier models, but it still has a reasonable price.
For more information and updated pricing, check out the link we provided!
– Enclave Audio 5.1
Sometimes, I just can't stop bragging about how awesome a product looks and this is one of those cases. The Enclave Audio 5.1 doesn't look like anything too special, but it is beautiful in its simplicity.
It is a 5.1 sound system, so it has 5 separate speakers and a subwoofer. The right, left speakers and the massive subwoofer has a rectangular shape, while the rear speakers have a more interesting form. They are made so that they can fit beautifully into a corner, which really caught my eye.
The Enclave Audio 5.1 is also Enclave's first fully wireless home theater system. It is full 5.1 kit and operates over the less crowded 5 GHz spectrum.
Although it is called a wireless sound system, it still has tons of cables, required to connect each speaker to power.
Each speaker is labeled in a way that you'll definitely know where it is supposed to go. That is one of the benefits of this sound system; that it is incredibly easy to set up. Once you plug them all in, you're ready to go.
The Enclave Audio 5.1 also has its own phone app, which is pretty awesome and gives access to features like Soundcloud and whatnot. But it's pretty much useless, since you can connect your smartphone through Bluetooth and sync music from any app you want to use.
The sound quality was definitely better than what you would get from a regular set of speakers. Watching Guardians of the Galaxy on Blu-Ray really brought out the best of the action scenes and made them feel pretty realistic.
So the sound quality is great, but I don't even know what to expect from this device, because the price tag goes much higher than many of the systems here.
Still, it delivers all the awesome features it promises and it is one of the best home sound systems to be had.
For more information and updated pricing, click on the link we provided!
– Yamaha YHT-4920UBL
Yamaha has brought us a robust, in-box theater system with all the modern features we know and love at a very reasonable price.
It is one of the most inexpensive high-end home theater systems on the market right now and it definitely provides the high quality sound, robust features and user friendliness that a 5.1 sound system should have.
It also has HDCP 2.2 support and support for 4K content. It is definitely well suited for the most modern and most high-quality cinema experience. So let's dive into it in more detail.
What becomes obvious right away is that the Yamaha YHT-4920UBL's receiver is more bulky than the other models we've reviewed so far. It isn't a problem by any mean, if you have the necessary space for it under your TV.
In front it has a lot more control buttons required to control your audio experience, a USB port and a LED screen. It would take forever to go through all the functions, but you can do everything on the front of the receiver that you would do from your remote.
You probably won't make much use of them, since you have the remote and sitting, chowing down on your chips while you watch your movie is much more comfortable than crouching in front of your TV, messing around with your AV receiver.
On the back you'll find 1 HDMI out port and 4 HDMI in ports, so the most important thing is taken care of. But the Yamaha YHT-4920UBL doesn't take up all that extra space for nothing.
It has a lot of the normal audio inputs, digital audio inputs and plenty of the standard AV inputs, so you can connect a lot more speakers to it then what you get out of the box.
If running wires and setting up the surround sound feature is too much of a drag for you or you just cannot place speakers behind you, you can use the cinema front feature. It allows you to enjoy the surround sound effect even with all the speakers being in front of you.
Also, to make the speaker setup process much more of a breeze, you have a microphone that comes with the package. All you have to do is connect it, turn the system on and it will help with placing and calibrating your speakers well.
But when it comes to connecting the original speakers, this sound system isn't as advanced, since it uses a spring loading system. It's an older way, but once you connect it, you can forget about this.
The receiver also supports an active subwoofer so you can connect an additional subwoofer or a more powerful one if you require it. But be careful that your windows stay in place.
The receiver is perfectly matched with a compact speaker package that offers great sound and hella deep bass! You can also enjoy music from your smartphone by streaming it through a Bluetooth connection.
All this good stuff adds up to an outstanding cinema experience and one of the best deals listed here. For more information and updated pricing, be sure to check the link we provided!
– Pioneer 5.1 HTP-074
Pioneer is known to be a manufacturer that develops high-quality audio devices, let it be your everyday headphones or even advanced gear for musicians, Pioneer has people covered.
As we continue with our reviews, the price keeps dropping lower and lower, which is all the better for me and for everyone! The Pioneer 5.1 HTP-074 comes at a decent entry level price.
It has a lot of nice features and 600w speakers that pack a punch. But does it match up to our standards? Let's find out!
In the package you get a remote, 4 tiny speakers, and a horizontal center speaker. It also comes with an antenna that is used to process all the wireless signals. Finally, we have the receiver and the huge subwoofer.
The receiver has a very stylish, textured design that I found the most attractive among all of these sound systems. It is also a bulkier model with many AOX inputs and video in as well on the back. It also has the 5 HDMI ports that you would expect. There are 4 ports for input and 1 for output.
You can easily connect your console, PC, Blu-Ray DVD player or phone and enjoy high quality sounds and music. It also has Ultra HD pass through with HDCP 2.2, so it's compliant to the most modern video standards, such as 4K.
You also have ports for optical and coaxial cables. The speakers and the woofer are all connected through a spring loading system. It is a pretty straightforward sound system.
You can use Bluetooth or the USB port on the front to connect your phone or any other device you wish to stream music from.
The only downside of this product might be that it has smaller speakers than the ones we enlisted here. It's the only throwback of it being so inexpensive.
Otherwise, if you want a simple, straightforward home audio system, the Pioneer 5.1 HTP-074 will serve you well!
For more information on the product and updated pricing, be sure to check out the links we provided!
– Klipsch HD1000
Now, one thing really hit me when I took my first look at the Klipsch HD1000 home theater speaker system and that was the fact that it was huge! It's sheer size and good pricing was a good enough reason to put it on this list and to give it further thought and investigation. So, let's find out if it's worth the money!
The Klipsch HD1000 puts great emphasis on size, offering 5 pretty large speakers with 2 mini speakers and a 3/4" horn-headed tweeter inside them. It is a unique feature of Klipsch speakers.
It gives nice clean sounds and makes all the music and movie sounds awesome.  Finally there's a massive subwoofer that I had to hug with both arms to be able to carry it from one room to another.
It is 10 inches large and has 200 watt continuous power. It can jump up to even 420 watts for a short time, if something suddenly requires more bass.
All of the speakers can be placed vertically and horizontally. To make sure that they keep their aesthetic look even if you place them horizontally, they have adjustable logos.
You can spin them in the direction you want them, making the speaker look like it was made to be placed horizontally.
It's very important to note that this package only includes speakers. These speakers are pretty awesome and really massive, but that comes at the throwback that they don't come with a receiver.
You have to buy a separate receiver, so you'll end up spending more money than you would with buying an all in one home theater system. But if big, high-quality speakers are what you want, you got them! You can connect them to just about any receiver pretty conveniently.
For more information about the product and to get the updated pricing, be sure to check out the link we provided!
– Monoprice 10565 Premium 5.1
As we move on in the lane of 5.1 home sound systems, we leave AV receivers behind and move on to the big bad speaker only packages that risk breaking your windows every time you turn them on.
Few responsible people would recommend using the Monoprice 10565 Premium 5.1 theater system to watch a Michael Bale movie at full volume. But if you do, hold on to your couch and use duct tape on your windows, because there will be some powerful explosions.
Monoprice provides these astonishing speakers very inexpensively. This is one of the most attractive qualities of this speaker system, since it gives you a lot more bang for your bucks.
You can see at first sight that this 100-watt 5.1 speaker system means business. It has 4 massive vertical speakers with woofers and tweeters. Then there's the huge 8 inch down firing subwoofer that looks like it's here only to murder your ears and give you that bang you we're looking for.
Each of the speakers has a matte black finish, which is more resistant to dust and fingerprints. They aren't really stylish and have more of a generic look.
To me, music and movies from these Monoprice speakers sounded pretty awesome and they both had deep, powerful bass.
These simple and cost effective speakers really deliver the sound quality and the powerful bass they promise. If you already have an AV receiver or even if you don't you can put together a mean home audio system with these marvels.
To see the updated pricing, be sure to check it out through the link we provided!
– Sony BDVE3100 5.1
During all these years, Sony has been keen to delivering some amazing devices that took home entertainment to the next level and they have really kept this habit with the Sony BDVE3100 5.1 home theater system.
It is one of the most compact systems on this list that comes at half the price as the other premium ones that we mentioned above. Although they do come with smaller speakers but it has a feature that few other home theater systems have, which is a Blu-Ray disc player.
So the Sony BDVE3100 5.1 screams that it is a compact, fully featured home theater system from every inch of her being.
Basically, if you just want to watch 3D Blu-Ray movies with excellent quality sound or listen to music, you don't need anything else besides a TV. It looks good, it feels and sounds good and it functions really well.
I really thought that this system couldn't be really powerful, since the speakers are much smaller than what I'm used to. But it is a 1000W system.
Once I heard the sound and saw my cup running off the table from the deep and powerful bass, I was completely convinced by the sound quality.
It is very lightweight and can fit into even the smallest spaces. Connecting the speakers is also incredibly straightforward and easy. You just have to plug them in the back, each according to their associated colors. Every output channel has its own color.
The Sony BDVE3100 5.1 also offers the standard features of a modern home theater system, such as the ability to sync music through Bluetooth. It does offer extra features like Wi-Fi and a YouTube application, which can come really handy if you would like to watch your favorite channels from the comfort of your couch.
Now, I really like this system but it does lack one core thing that I think is very important in a device that takes its place in the center of your entertainment. It has a lack of HDMI ports, since there's only one on the back, along with two audio in ports and a LAN port for networking.
There's also a digital optical in, TV port in the same place. So I guess this is the throwback of having such a small receiver.
Other than that, the Sony BDVE3100 5.1 is one of the most cost effective home theater systems in a box that we looked through.
– Panasonic SC-XH105 Home Theater System
Finally, here's a model for those people who want to enjoy some elevated sounds in the simplest and most cost effective way possible.
Panasonic has developed a home theater system for those on a budget and it works really well.
It doesn't have the fancy features of advanced home theater systems like Bluetooth or Blu-Ray, but it does offer great sound and the ability to connect your devices through HDMI and USB.
It comes with 5 identical sized speakers that you can dynamically place all around the room. They offer some pretty amazing surround sound effects and it's completely up to you how you place them, since they have a selective speaker layout.
These speakers are also wall-mountable, opening up a lot of placement possibilities. The subwoofer has a good base although some more premium products have a much more powerful punch.
The overall output wattage of this home theater system is 300 watts, which will produce way better sound than any TV would.
The Panasonic Home Theater System SC-XH105 doesn't have a Blu-Ray disc player, but it does offer a pretty awesome DVD player. You can seamlessly stream Full-HD 1080p content with rich sound, from any of your connected devices.
If you would like to have a cost effective solution for home audio needs, be sure to give the Panasonic Home Theater System SC-XH105 a go.
To see the updated pricing, be sure to check out the link we provided!
– Samsung HT-J5500W 5.1
We cannot leave Samsung out of the race for being the best home theater system on the market. Although some products are much better, these are pretty good, offering sweet sounds with powerful bass and providing a sexy look.
The Samsung HT-J5500W 5.1 follows the same design principle as most Samsung products, with well rounded corners and a glossy finish. They have ditched the rectangular shape of other speakers and went with a cylinder shape.
It looks quite aesthetic but you'll definitely have to have the kind of furniture to make it actually blend into the environment.
They stand horizontally with the two larger ones going left and right and the two smaller ones going to the back of the room. The front speaker has a vertical stance, while you can put the large subwoofer in the back of the room.
You have the main unit, which is the amp. It has a Blu-Ray player, a LED screen, the control buttons and a USB port on the front. Setting up this sound system is very simple, since it comes with a guide and each speaker is labeled with colors.
You just have to match the colors, connect the speakers to the receiver and you're good to go. You also have a pair of the regular audio ports in the back and a single HDMI port. I would have definitely gone with more, but you can manage with only one I guess.
There's also a LAN port but you probably won't be using it much since the receiver has Wi-Fi. If you want, you can connect your phone through Bluetooth and enjoy streaming music from just about any app you want.
This home theater system also features apps like YouTube, Netflix, Amazon, and BBiPlayer among others. Overall, I'm satisfied with the Samsung HT-J5500W 5.1.
It would work well for even pickier people who want to hear every bit of ambient sound there is in their movies or music. It doesn't match up to active speakers though, but it manages to stand out as a stand-alone home theater system.
To get the updated pricing or more information, be sure to check the link we provided!
– LG Electronics BH5140S
Finally, we have the most inexpensive home theater system on this list and it does its job pretty well in my opinion.
The LG Electronics BH5140S is an all in one home theater system, offering a Blu-Ray player and an awesome Smart TV interface that lets you install applications and browse the Internet to be able to put your hands on all of your favorite online content.
You can watch all your Blu-Ray movies in Full HD 1080p and hear sounds in their purest form.
The overall design of this home theater system is pretty generic. It has 5 rectangular shaped speakers that stand proudly wherever you put them since they are slightly bent backwards.
You'll get some really powerful sound with 500 watts and you'll have an experience that sounds as good as the entire system looks. I'm fonder of simplistic designs, so I really liked this one.
Connecting your speakers is made easy with color codes and you have the usual sound inputs on the back, along with an antenna input, a LAN input, the Local in input and of course the HDMI.
What makes it more interesting is a feature called the Private Sound Mode. When you have this home theater hooked up to your home TV, you might want to watch some programs privately to yourself.
If you're the type to watch some dirty videos and don't want anyone to find out about it, this feature will come in handy. It will automatically send the audio track to your smart device (smartphone or tablet) and you can listen to it privately on your headphones.
It is perfect for a small man-cave, and any room that isn't too large. A more confined area will be perfect for this system. It will fill the space with the sound nicely, ensuring the quality 5.1 sound experience you're looking for.
When it came to the bass, the booms of the explosions and gunfire or any other action scene are right we're they're supposed to be.
If you want the most cost effective solution for enjoying the high quality sound experience of new movies, then you'll just love this product.
What Is A 5.1 Sound System?
Well, the most important feature is obvious right off the bat. You want to have surround sound in your living room or in a space, so that it makes you feel like you're right inside your favorite movie.
The speakers should be spread all around you and the tighter the space is and the more places it has where sound can bounce off, the better experience you'll have.
These systems are composed of a front speaker, four surround speakers and a subwoofer. This makes 5 speakers and a plus subwoofer, which is where the name "5.1" comes from.
You have two options when it comes to having a 5.1 sound system. Either you can build one for yourself or purchase a home theater system in a box.
What Is There To Know Before Buying A 5.1 Sound System?
If you want to build it yourself from scratch, you'll have to get all the separate components and do a bit of wiring and some very basic electronics stuff. First, you'll have to get a receiver that in most cases works as an amplifier for every speaker except the subwoofer.
You'll have to pair this center channel with some front speakers and get some extra speakers for the surround sound. This option takes a bit of work and takes up much more space and also costs more, but produces some great quality sound.
To spare all the hassle, it's best to go with an optimized 5.1 sound system that has all the necessary features for listening to music, watching movies or streaming any other kind of media. Now, there isn't much to look through when you're looking to buy one of these systems, since they are very compact.
There are only a few things to go through when it comes to sound systems, so let's get straight to them!
Connectivity and Ports
The most important features are the sound quality and how much connectivity options it has. Also, you want to make sure that it has enough ports to support all of the devices you would like to connect to it. It's as straightforward as it gets. Just be sure to know what purpose you're buying it for.
You want to be able to connect everything that you wish to get that immersive sound. Each device and TV service gives a certain signal such as, HDMI, 5.1 sound and Bluetooth or what you get from satellite TV.
So, you need the 5.1 sound system's receiver to be able to decode these signals and provide you with the immersive audio experience you wanted. You can connect all of your devices to the AVI receiver and it will send the signal to your television.
Having networking features like Bluetooth is also very convenient, but you can live without it. Also, if you have a 4K television, make sure you take that into account. Your sound system must be able to decode its signal.
Now, to keep it simple, the most important thing today is the number of HDMI ports a 5.1 sound system has.
Also, there's a few extra stuff you should look out for. For example, not every 5.1 sound system has an USB port and it is definitely more convenient to be able to just plug in your USB and listen to the music you have on it. So make sure to get an advanced device that has a USB receiver as well.
Support For Additional Sub-Woofers
To spare the work of calibrating speakers and having to mess around with any technical jargon, choose a model that has auto calibration. Only advanced receivers have this option.
Either they have a small antenna connected to them or an integrated one, but it's best to have it to avoid all the hassle that comes with calibration.
Subwoofers give a lot more punch to the sound effects and every 5.1 sound system comes with one. But if you already have one at home or would like to connect another third party woofer, you should have the option to do so. The choice to make here is between a system with an active subwoofer or a passive subwoofer.
For example, entry level receivers only have a passive subwoofer; while more advanced models have active subwoofers as well.
They enable you to connect a third party subwoofer, providing you the option to have a more powerful subwoofer if you want it. Most systems have a dedicated 'Sub Out' option, so no worries. This was only important to mention.
A Useful Feature
It's important for a sound system to have a stand-by mode, because you won't always need the powerful 5.1 surround sound. For example, you probably don't want to watch the news with your sound system turned on, so it would be convenient to have the stand by option.
This way, you can choose when you want to get sound only from your television's speakers. This feature is not available on every sound system and it is an important one to note.
Although, you don't necessarily need it, because you can just turn it off and your TV will recognize it and will produce sound through its own speakers if it's smart enough.
Conclusion
There you have it! A not so detailed, but useful guide to buying a good home theater system and a fine list of the best home theater systems of our time. They all incorporate the most modern features that you would require, like Wi-Fi, Bluetooth, Blu-Ray, 4K and so on.
No matter what your preference is in sound quality, loudness or features, this list has them all. Even if you're on a tight budget, you'll find the right device with the features you require.
I hope that you have found this article helpful and that you enjoyed reading through it.